This is a test page

Sunpak S34-TSH (shown with optional Face Trim)
The Sunpak S34-TSH (Two Stage Hardwired) are all hardwired for convenience with no remote control to lose or batteries to replace. This heater is easily controlled with a duplex switch.  Sunpak is CSA design-certified as an unvented infrared heater for outdoor use. All units are equipped with spark ignition and 100% shutoff for safety, economy and convenience. Select the optional face trim in Black, Bronze or Stainless Steel to give the Model S34-TSH a streamlined appearance.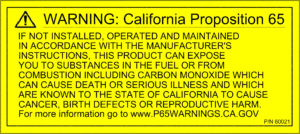 HEATER FEATURES:
Slim Profile (8″ H x 8″ W x 47-1/2″)
Hi/Lo Control (25K to 34K BTU/Hr)
Natural or Propane Gas
Angle Mounting – Zero to 30 Degrees
Ideal for Wind Protected Areas
Rain Protected
24 VAC Controls
Optional Face Trims (stainless steel, black or bronze)
Optional Mounting Kit
Optional 24 VAC Transformer
Weight: 40 lbs
All Sunpak Heaters require Clearance from Combustible Materials.
The required distances from the walls and ceiling on show below.
It is highly recommended the you review the installation instructions
at the link below before specifying, purchasing or installing this heater.
Complete  Sunpak TSH Instructions – 2018
Sunpak Heaters Face Trim Options
The Sunpak® Model S34-TSH is an outdoor rated heaters available for use with natural or propane gas. These heaters can be either wall or ceiling mounted. The optional mounting kit allows this heater to be mounted from above keeping the patio deck free and clear. Heat coverage varies depending on the wind exposure on patio. The average spacing between the heaters is 10 feet apart.
Sunpak® comes with a 24 VAC spark ignition system which includes flame monitoring through flame rectification. All Sunpak S34-TSH Heaters require an external 24 VAC source.
As an unvented gas heater, Sunpak® heaters need a continuous supply of fresh air and proper ventilation of combustion gases to operate safely. This heater is not suitable for inside residences and other confined areas where the operational and safety requirements of this heater cannot be met. Refer to heater instructions, available online or from manufacturer for complete information.
The Sunpak® heater design offers a slim profile which works well in a wide variety of patio settings. Sunpak® heaters are available in either black powder coat or a 304 stainless steel finish.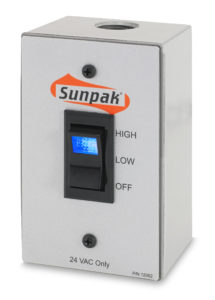 ON/OFF and HI/LO wall mounted switch
provide easy control of your S34-TSH heater