Sunpak Heater Model S34-TSR

The Sunpak Heater S34-TSR
(shown with optional Stainless Steel Face Trim)
The Sunpak Heater S34-TSR offers an upgrade to the standard control Package providing a wireless remote. Sunpak is CSA design-certified as an unvented infrared heater for outdoor use. All units are equipped with spark ignition and and 100% shutoff for safety, economy and convenience. The Stainless Steel face trim gives the Sunpak heater Model S34-TSR a streamlined appearance.
All Sunpak Heaters require Clearance from Combustible Materials.
The required distances from the walls and ceiling on show below.
It is highly recommended the you review the installation instructions
at the link below before specifying, purchasing or installing this heater.
Sunpak Heater S34-TSR Features:
Slim Profile (8″ H x 8″ W x 47-1/2″)
Hi/Lo Control (25K to 34K BTUH)
Natural or Propane Gas
Angle Mounting – Zero to 30 Degrees
Ideal for Wind Protected Areas
Rain Protected
25,000 or 34,000 BTU/Hr Input
Stainless Steel Face Trim (optional)
Mounting Kit (optional)
Wireless Handheld Remote or Wall Control
Programmable up to 3 control
7.5 VDC Control System
Wireless Timer (optional)
Important Links:
Sunpak heater S34-TSR Technical Sheet
Sunpak Heaters Face Trim Options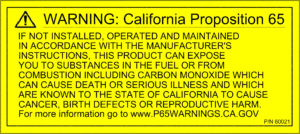 Radio Frequency Interference
Sunpak S34-TSR Heaters use a short range radio frequency (RF) to wirelessly control the heater. Interference can occur if there is another device on the same frequency or a very strong signal on a different frequency. The interference should only occur while the other device is transmitting, it should not require modules to be "reprogrammed" or "reLEARNed". The transmitter's security codes in the handheld remote control are pre-programmed into the transmitter firmware at the factory and cannot be changed. On the receiver side (inside the heater) security codes are stored in non-volatile EEPROM memory which is retained for 40-years after power is disconnected from the heater. All heaters are pre-programmed at the factory to match the operating controls supplied with each heater.
Heater Installation
Sunpak Heaters are intended to be installed by qualified personnel specifically trained and experienced in the installation of this type of heater and related system components. Some states or provinces require installation and service personnel to be licensed. If you state or province is such, be sure your contractor bears the appropriate license. Persons not qualified shall not attempt to install or repair this heater.
For Outdoor Use Only
Sunpak heaters are designed for outside use only. They are not for use in residential dwelling or other confined areas. Semi-enclosed patio are permissible provided they have adequate permanent openings around the patio periphery and meet the requirements for outdoors as defined in the installation instructions.
Clearance from Combustible Materials
Sunpak heaters all require a minimum distance from walls and ceilings. This is an important consideration for your design.  Refer to instructions for details For S34-TSR use S34 dimension as indicated below.
Ventilation
Sunpak Heaters require adequate combustion air and ventilation to operate safely and efficiently. This requires openings above and below the level of the heater. Refer to the heater instructions for more detail.
Electrical Requirements
Sunpak® S34-TSR Heaters come with a 7.5 VDC Power Adapter which must be used with the heater. This Power Adapter must be located outside the heater.
Gas Pressure
Sunpak® Heaters require a minimum inlet pressure of 6″ water column for natural gas and 11″ water column for propane gas. Gas pressure should never exceed 1/2 PSI or 14″ water column. For gas pressures exceeding 1/2 PSI a high-pressure regulator is required before the gas enters the heater.
Agency Certification
Sunpak heaters are design certified by the CSA under the ANSI Z83.19 standard
Heater Gas Conversion
The factory does not support converting heaters to different gases. Each heater has been setup and tested for a specific gas type.  Please make sure you select the correct gas type, Natural or Propane gas, before making your purchase.
A Word About Stainless
Stainless Steel Sunpak Heaters will tend to discolor around the flue opening at the top of the heater. This is normal due to the high temperatures where the combustion gases exit the heater. A small amount of discoloration over time does not represent a malfunction of the heater.
[/su_column][/su_row]