Sunpak Heater Model S34-TSR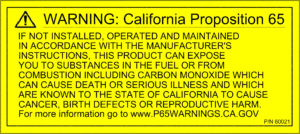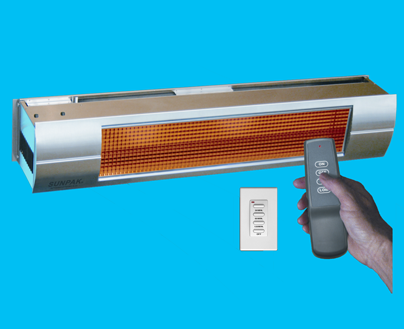 The Sunpak Heater S34-TSR
(shown with optional Stainless Steel Face Trim)
The Sunpak Heater S34-TSR offers an upgrade to the standard control Package providing a wireless remote. Sunpak is CSA design-certified as an unvented infrared heater for outdoor use. All units are equipped with spark ignition and and 100% shutoff for safety, economy and convenience. The Stainless Steel face trim gives the Sunpak heater Model S34-TSR a streamlined appearance.
All Sunpak Heaters require Clearance from Combustible Materials.
The required distances from the walls and ceiling on show below.
It is highly recommended the you review the installation instructions
at the link below before specifying, purchasing or installing this heater.

For the S34-TSR heater use the S34 dimension as indicated
above.
Sunpak Heater S34-TSR Features:
Slim Profile (8″ H x 8″ W x 47-1/2″)
Hi/Lo Control (25K to 34K BTUH)
Natural or Propane Gas
Angle Mounting – Zero to 30 Degrees
Ideal for Wind Protected Areas
Rain Protected
25,000 or 34,000 BTU/Hr Input
Stainless Steel Face Trim (optional)
Mounting Kit (optional)
Wireless Handheld Remote or Wall Control
Programmable up to 3 control
7.5 DCV Control System
Wireless Timer (optional)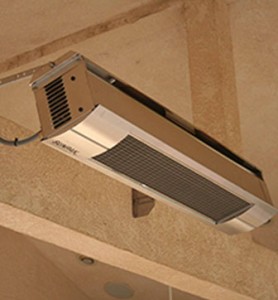 Sunpak heater S34-TSR Technical Sheet
Sunpak TSR Instructions – 2018
Sunpak Heaters Face Trim Options